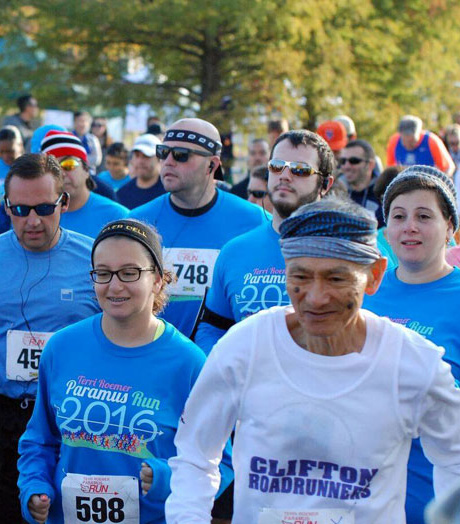 The Terri Roemer Paramus Run
This annual event is sponsored by the people of Paramus, in conjunction with the Board of Recreation Commissioners, Board of Education, Paramus Volunteer Ambulance Corps, Paramus Shade Tree & Parks Commission, and Paramus Police Dept., and benefits the young people of Paramus through the Paramus Scholarship Fund.
Location
Fairfield Inn & Suites Paramus
Paramus Park Shopping Center
GPS Address: 601 From Road, Paramus, NJ
Click here for map and directions.
Schedule – Tentative
7:30 am Packet Pick-up Begins
9:00 am Marty Roemer Memorial 10K Run
10:15 am 10K Awards
11:00 am Lou Lanzalotto Memorial 5K Run and Walk
12:00 noon 5K Awards
Entry Fees
10K, 5K, Walk $30 ($27 USATF). $40 if participating in 5K and 10K.
Registration
Online at runsignup.com/paramusrun, or on-site on Race Day.
Pre-Race Packet Pick-up
Road Runner Sports
65 Route 4 West, Paramus, NJ, (201) 226-0035
Friday, October 15th 4:00-8:00pm, and Saturday, October 16th 10:00am-2:00pm.
Courses
USA Track and Field sanctioned and certified. Clocks at each mile. Both the 5K and 10K courses pass through scenic, tree-lined residential neighborhoods. The start and finish lines for both races are at Paramus Park Shopping Center. Water stations, excellent traffic control, and first-aid coverage throughout each course. USATF-NJ Paul Miller Auto Group Grand Prix Event.
Scoring
Chrono Track B-Tag Scoring. COMPUSCORE, compuscore.com
Awards
1, 2, 3 Overall and Age Groups, Male and Female
1, 2, 3 Paramus Resident, Male and Female
Age Groups
5-year Increments: 14 & under to 85 & over
Amenities
Long-Sleeve T-shirt (first 1000 entires). Post-race DJ, drinks and snacks TBD.
More Information
(201) 265-9321, (908) 902-8587, oymp.net
Race Day Cell
(551) 427-2505