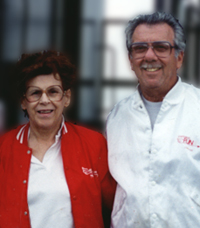 The Terri Roemer Paramus Run
Since 1979, runners and walkers have been coming to Paramus on the third Sunday in October to enjoy the beautiful fall weather, participate in one of the most runner focused events of the year, and help young people succeed through the Paramus Scholarship Fund.

The 2005 Run marked the first without co-founders, Terri and Marty Roemer. Their contributions are sorely missed, of course. However, since that time the Run has still been able to contribute over $30,000 in annual scholarships, bringing The Run's overall scholarship donations to over $700,000.

The Run Committee wants to thank all of the race sponsors, whose contributions enable the Terri Roemer Paramus Run to remain at the top of the fall road race schedule in northern New Jersey.
This annual event is sponsored by the people of Paramus, in conjunction with the Board of Recreation Commissioners, Board of Education, Paramus Volunteer Ambulance Corps, Paramus Shade Tree & Parks Commission, and Paramus Police Dept., and benefits the young people of Paramus through the Paramus Scholarship Fund.
The Terri Roemer Paramus Run is a 501(c)3 non-profit organization.